Every year, our students use Base Ten building blocks when learning place value. We know that without a thorough knowledge of place value, students have great difficulty succeeding in math, for it is the foundation for everything related to numbers.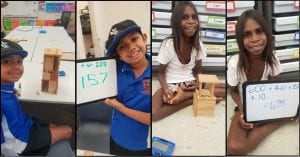 To help students master this crucial concept, I invited the 5/6 students to practice with these blocks to develop their number sense in a creative way. After students understand the basics of how Base Ten building blocks represent numbers, I challenge them to channel their inner 'architect' and participate in the engineering process to design their own building. There were no rules for these creations and creativity is continually encouraged.
Once students have completed their creations, they had to determine the value of the creation based upon the Base Ten building blocks they used.